Website Management Features
Increase your internet footprint and stay ahead of your competitors.
Keep your website updated and relevant. The user-friendly management dashboard will make you your own webmaster in a flash. No more over-priced web design or website update costs.
Get discovered, be seen
The Kwikwap system has been optimised to automatically increase your rating on search engines like Google and Yahoo! We will advise you on how to structure your website content to achieve high ratings.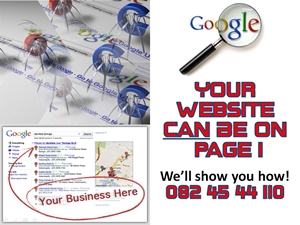 Manage own website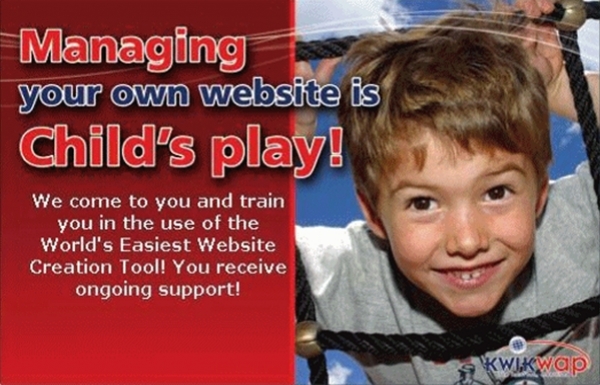 Take control of your website. With Kwikwap you can make changes to your own website, which is then published immediately online. Change prices on your products, add specials, insert photos etc. whenever you want to! Your website can have unlimited pages, and is fully interactive! Don't ever be charged for website updates or maintenance again.
Three websites for the price of one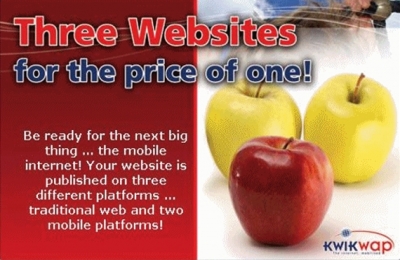 Your website is published on 3 different platforms: Traditional web page, older web-enabled phones, and modern (Windows based) mobile phones. Whatever you publish through the Kwikwap system immediately gets published on all three of these platforms, enabling potential clients to visit your website from their mobile phones at no extra cost!
Bulk Mailing list & SMS system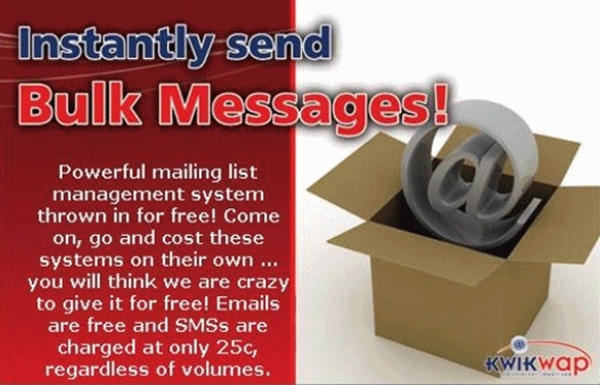 You can keep your customers instantly informed about specials, events or news bits via regular e-mails or SMSs to your client list, via the automated processes set up on your Kwikwap website.

SMSs are charged at ZAR R0.22 (Excl VAT) each, whilst emails are free.
Interact with your customers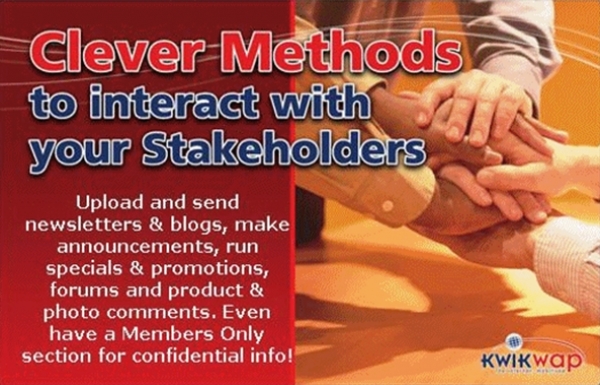 There are several ways to interact with your customers via your Kwikwap website:
Scrolling announcement, guaranteed to attract the attention of any visitor

Send out notices and special wishes (birthdays and holidays) via bulk email or SMS

Collect data via online forms and surveys

Maintain your own blog

Set up a discussion forum

Set up a members only area on your website
Publish various media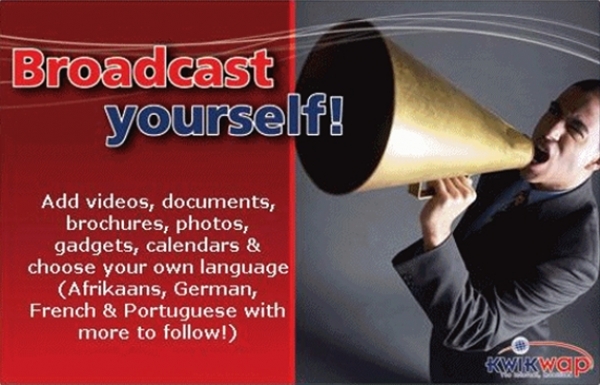 Make your website interesting for visitors: Our user-friendly website management system allows you to easily upload media files like Youtube videos, music files, slide shows, animated banners.
Embed Iframes, facebook and other social media.plugins.
Industry specific modules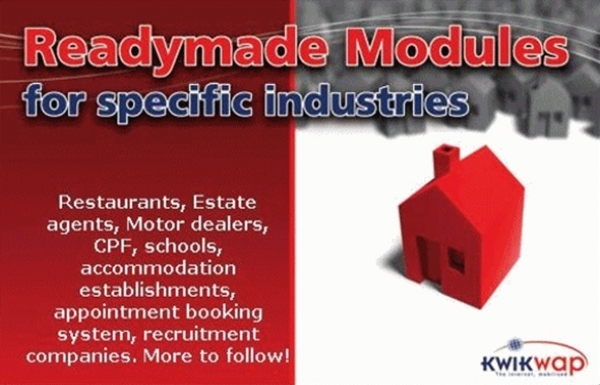 Recruitment module

Online loan application

Appointment booking system

Estate agent module

Auto dealer module

Bike dealer module

Boat dealer module

Caravan dealer module

Tractor dealer module

Kwikfood ordering system

Community Policing Forum module

Accommodation booking and enquiry system
Online Shop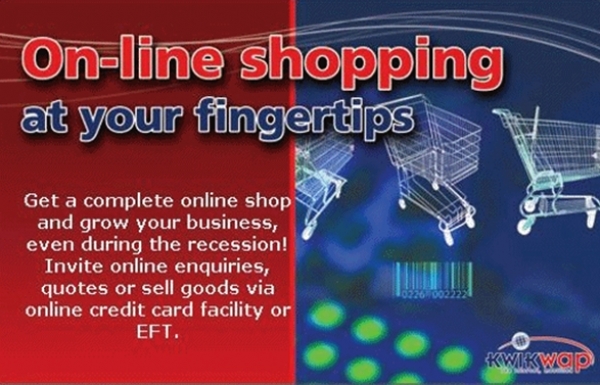 Do you have a need to offer online ordering and accept credit card payments on your site? No problem! Kwikwap has an integrated online shop and credit card payment module included in Package 3 (see below for various packages). You may also choose to just have request for quotes or confirmation of orders online, continuing with your manual processing of payments.
Collect data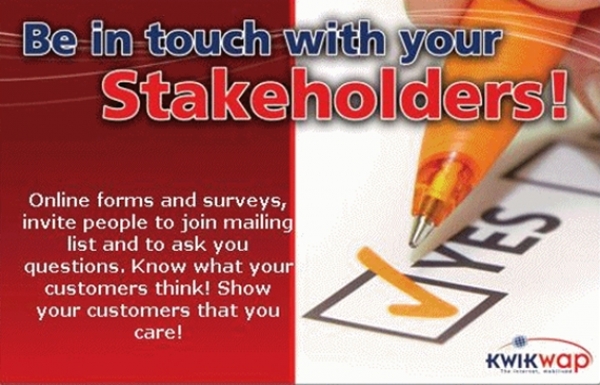 Our customizable online forms generator allows you to compile relevant questionnaires for your online visitors to complete. This information can be downloaded into an Excel spreadsheet to build up a database and/or process the data.
Advertising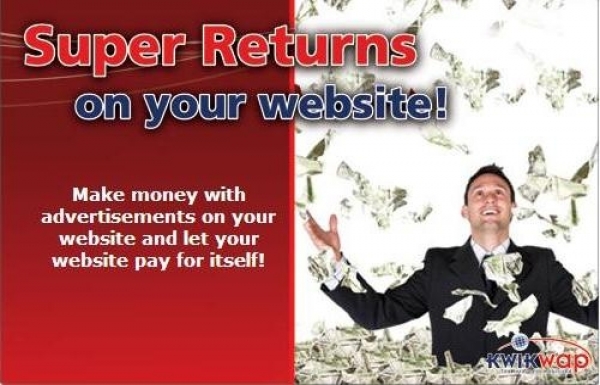 You can allow advertising logos with direct hyperlinks on your website, without knowing how to write any programming script or coding. Generate an additional income from your site.
All of this can be yours for a low low set-up fee of only R2,500, and for as little as R99 (excl) per month! You will not find value like this anywhere else!
Herewith a short description per website section:
STANDARD WEBSITE

Home

Introduction

Products | Services

Group type, product heading, description and photo

About Us

Company Profile

Contact Us

Contact details, internal contacts, directions, image & Google map

Links

Facebook and any other websites/web pages

Mailing List System

Bulk email (5000/month free) and SMS (25c each)

ADDITIONAL MODULES

Additional pages

Add unlimited pages under unlimited groups

Custom pages

15 more menu buttons, Iframes, RSS feeds, videos, etc.

FAQ's

Questions and answers

Photo Gallery

Albums with various display options (eg 3D, rotating, still)

Events Calendar

Show your important dates

Announcement

Scrolling text of anything interesting

Specials | Promotions

Broadcast special deals on products and services

Newsletter | Blog

.doc, .pdf, .xls, .pps

Forms | Survey

Construct any online forms with various fields & tick boxes

Documents | Brochures

.doc, .pdf, .xls, .pps

Online ordering | Shop

Sell products & services online via EFT or Credit Card

3 level product groups

Display products in 3 levels @ additional R150+VAT/month

Members only area

Broadcast information to limited audience (members/staff etc)

Directory module

Create a directory with various search functionalities

Data sheet

Customizable data sheet with detailed information

Hovering side bars

Shortcut pop-up with hyperlinks to any URL

Advertising space

Social media plugins, exposure to sponsors, sell ad space

INDUSTRY SPECIFIC MODULES

Auto dealer module

Upload 999 items, 6 images per car/bike/caravan/boat

Potential buyers can sms the unique stock code to 47995 and automatically receive an sms with a link to the stock item on your mobile website to view detailed info (price/model etc)

Bike dealer module

Caravan dealer module

Boat dealer module

Accommodation bookings/enquiries

A form in which clients can make booking enquiries

Online loan application module

Allows visitors to apply for a loan via your website

Business listing module

Build one page websites for clients inside your site

Appointment booking system

Calendar with bookable hours

Recruitment module

Add available jobs and view applicants
| | | | |
| --- | --- | --- | --- |
| Package | | | |
| Monthly fee | R59.00 | R 99.00 | R 150.00 |
| Content management system with no contract | Yes | Yes | Yes |
| Unlimited pages (Products & Services) | Yes | Yes | Yes |
| Unlimited additional pages &15 Custom pages | Yes | Yes | Yes |
| Bulk emailing & sms system | Yes | Yes | Yes |
| Members area, Newsletter, Forum and Surveys | Yes | Yes | Yes |
| Mobile website | Yes | Yes | Yes |
| Industry specific modules | Yes | Yes | Yes |
| Search term report | Yes | Yes | Yes |
| Website hits counter | Yes | Yes | Yes |
| Google maps and Google site map submission | Yes | Yes | Yes |
| FAQ's (Frequently Asked Questions) | Yes | Yes | Yes |
| Photo gallery and media file uploads | Yes | Yes | Yes |
| Documents & Brochures uploads | Yes | Yes | Yes |
| Own domain name | NO | Yes | YES |
| 1 Free email account | NO | Yes | YES |
| E-commerce (online shop) | NO | NO | YES |
| SMS shortcode | NO | NO | YES |
| Auto mail responders | NO | NO | YES |
| Google analytics integration | NO | NO | YES |
| Google webmaster tools | NO | NO | YES |