How much would you pay for a website with UNLIMITED PAGES?

R 15'00?

Maybe R 10'000?



NO!!!
We will design your new website with unlimited pages for only R2'500 AND give you the tools to manage your website yourself.
Call us on 082 45 44 110 or send an online request.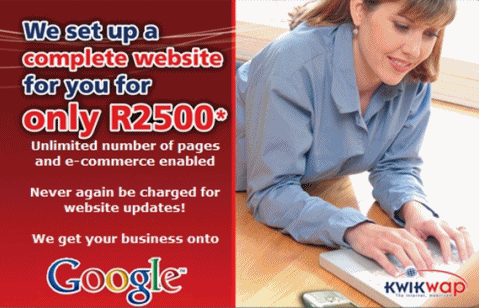 Be in total control of your own website's design with the world's easiest content management website design software.
Before you embark on your website development project, whether it is an upgrade or redesign of an existing or a brand new website, first ask yourself these questions:
Am I happy with my website?

Can I make changes to my own website as and when I want to?

Does my website allow for credit card payments (online shop, e-commerce)?

Is my website listed high on search engine results (Google/Yahoo!)?

Does my website convert visitors into customers?

Can my website be accessed from a mobile phone?

Can visitors sign up for my newsletter from my site?

Can I limit access to certain sections for viewing by a closed audience (members area)?

Does my website have bulk email and SMS facilities?

Can I use my website for prospecting?
The Kwikwap system offers you ALL of the above ... and more!
We offer the BEST WEBSITE DESIGN for the BEST PRICE, GUARANTEED!
Now any business, no matter how small, can afford a website ... can you afford not to?
We can make your website dreams a reality - call today and have a website tomorrow!
Our website design software has many intelligent features that are activated at a click of a button, ensuring that your website always adheres to the latest website design standards. Our design templates are easy to understand and will ensure that your website has a unique and professional look.
We charge only R2'500 to DESIGN AND SETUP your fully interactive website AND WE WILL TRAIN YOU to use the World's Easiest Website Creation Tool.
Call or text us on +27 82 45 44 110 and have a website tomorrow!
"But why is it so cheap if there is no catch?"
This is not the world's first website design software, but we made 100% sure it is the easiest! Because our system is so user friendly, we can use normal people to develop your website and to teach you how to maintain your website by yourself at no additional costs. No longer do you have to pay highly skilled developers to design or update your website. We speak your language!
You get a complete tool to manage your website for only R150.00 per month (excl VAT).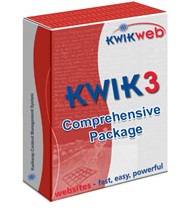 Our comprehensive package offers you the following:

No Contract

Unlimited Pages

Content Management System

Bulk e-mailing list

SMS system

Mobile website

Industry Specific Modules

Search Term Report

Website Hits Counter

Google Site map submission

FAQ system

Google Maps

Photo Gallery

Animated slide show

Video and music uploads

Documents and Brochures

Own domain name

1 Free e-mail account

eCommerce website

SMS short code

Online Rental System

Google Analytics Integration

Google Webmaster Tools
(alternative but limited packages offered @ R 59.00 or R 99.00 per month excluding VAT).
No monkey business, just good value for money. We are so confident about our product that we don't keep you to lengthy contracts! Call us on +27 82 45 44 110 or contact us online and have a fully functional website tonight (which you can manage yourself)!